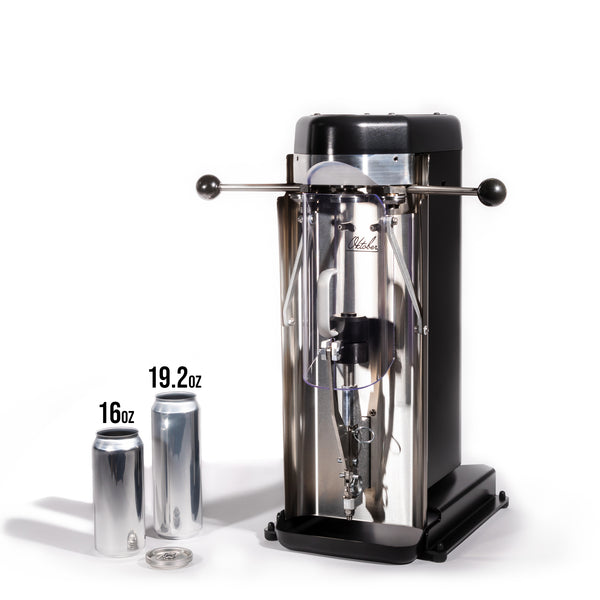 ADDITIONAL SHIPPING INFORMATION:
Oktober Can Seamers and Crowler™ Can Seamers have a standard 2-week lead time to ship. Should you need your seamer sooner, please contact Info@oktoberdesign.com for assistance. We cannot guarantee expedited shipping, but will try our best to accommodate you.
MODEL 7 - D  specifications and compatibility
The "MODEL 7 - D" Can Seamer is configured to seam aluminum beverage cans with size 202 ends (tops). It comes standard with adapters for 19.2oz and 16oz "standard" cans. Many optional adapters for a variety of other size cans (such as 12oz and 8oz "stubby" cans) are also available, including custom sizes.  
The Oktober Model 7 Can Seamer is also compatible with seaming tooling for size 300, 209, 206, 202, and 200 ends.  Additional tooling sets are available for Purchase Here.
Custom Colors
You can get an Oktober Model 7 Can Seamer in almost any color imaginable. The drop-down menu allows you to choose from standard black, "custom," or "custom prismatic."  When choosing a "custom," or "custom prismatic" color for your Can Seamer or Crowler™ Can Seamer, we will work with you to ensure you get the color you need. Please visit our Custom Color page for more information.
Machine Options
The "Can End Type" menu allows you to choose the profile of the  ends you plan to seal.  All profiles create the same quality seam; choosing which type should be based on the source of cans you plan to use.  See our FAQ page for more info.
We offer a standard 110V 60Hz motor as well as a 230V 50Hz option. Both have equal performance; the 230V motor only needs to be chosen in regions where the standard power voltage is 210-240V 50Hz, such as Europe and Australia.  We can supply the proper outlet connector for your region.