It's safe to say that cold brew is having a bit of a moment that shows no signs of slowing down. If you've started offering cold brew like so many coffee companies have, you're already one step closer to increasing your shop's revenue. All it takes after that is adding a coffee canning machine to your arsenal.
There are multiple benefits to offering canned coffee, and we're going to explore the implications for your brand, revenue, and more.
The Benefits of Canning Cold-Brew Coffee
Additional Revenue Stream
Providing canned cold brew coffee in your café or other locations provides your business with an opportunity to earn more revenue from your coffee-loving regulars.
For reference, most Americans drink more than just one cup of coffee per day. If you have a customer who comes in each morning and orders a single cup for themselves, offering canned cold brew allows them to bring another cup of their favorite coffee with them when the 2:30 feeling starts to take hold.
Even more, for the most particular customers, having a can seamer in your coffee shop setup allows you to customize cold brew to order. Have customers who want a fresh serving of your nitro cold brew later in the afternoon? Now, that's possible.
Reach a New Market
Providing canned options of your cold brew coffee also allows you to engage with customers you might not normally reach through your brick-and-mortar storefront. Working with local convenience stores and grocery stores allows you to get your product out for local distribution without limiting yourself to what you can produce and display in store. That way, even the most impatient customers can simply grab and buy.
Even more, if you're looking for extra ways to add to your revenue stream, cold brew coffee is a popular choice with the early-morning farmers market crowd. Supplying a stand on Saturday or Sunday mornings is an opportunity to get in front of new customers who are trying to buy their local produce for the week.
Branding
If your coffee company has a marketing department or works with an agency to attract customers, offering canned cold brew is one way to make them swoon with joy. Not only does offering canned cold brew open up an entirely new potential customer base and revenue stream, but it also presents a direct opportunity to raise brand awareness.
Your roastery's canned cold brew can be sold with your logo and other brand elements on the label. As your customer carries their cold brew with them during their commute or at the office, your brand will pick up more exposure, providing a latent form of marketing that your customers will do for you.
Use Recyclable Materials
Most coffee cups aren't as eco-friendly as you might think. Paper to-go cups have a plastic coating insulating the interior, and millions of plastic cups for cold brew end up in landfills every year due to improper recycling.
By contrast, not only are cans easier to recycle, but they're also better for the environment. Consumers are more likely to recycle cans than they are paper or plastic cups due to a higher level of public conscience about the practice.
Integrating Cold-Brew Canning Into Your Business
With our coffee canning machine models, it's easier than ever to incorporate convenience into your business. Whether you set aside time each day to stock up cans of cold brew for your refrigerators or want to make to-go orders on demand, the speed and ease of use with a coffee can seamer is unparalleled.
Even more, our can seamer machine models have a small footprint and use minimal counter space. That makes it even easier to provide canned cold brew for your customers' convenience so they can grab their coffee and go.
What About Canning Coffee Beans?
In addition to providing can seaming machines for cold brew coffee, we're also happy to put you in the business of canning roasted coffee beans for your customers. 
This is great news if your roasting company is a small operation wanting to sell both beverages and beans. Our machines are easy to use and allow you to provide a stock of whole or ground coffee beans to your customers who may want to have your product at home.
Benefits of Canning Roasted Coffee Beans
Bagged coffee is notoriously bad for the environment. This is partially because most coffee bags have either a plastic interior coating or are made completely out of plastic—which is great for bean freshness but almost nothing else. Typically, the types of plastic used in making the bags aren't recyclable. Millions end up in a landfill every year.
However, canning roasted coffee beans offers a more ecological solution. Not only are the steel cans 100% recyclable, but they're made in America, meaning your order won't have to go on a fuel-guzzling container ship before it reaches your coffee company.
Here are a few other benefits worth noting about making the switch to selling canned coffee beans instead of bags:
Freshness: Bar none, canning coffee beans provides better protection for the aroma and flavor of your product than any other option on the market.
Ease of production: Compared to bagging coffee beans, canning allows you to pack faster, all while reducing the risk of spillage during the process.

Storage and display: Cans are easy to stack and store, and they aren't limited by how and where they can be displayed..

Availability: We only use steel cans with U.S.-sourced material and can turn around brite coffee cans in a matter of days and custom pre-labled cans in a few weeks.
Coffee Canning Machines from Oktober
At Oktober Can Seamers, we consider ourselves to be enthusiasts for cold brews of all types—that's why we care about making sure your product is just as good in the can as it is in your shop. Our customer service is unparalleled, and we're always willing to go the extra mile to help you with machine maintenance, troubleshooting, and repair.
While we offer four different series of can seamers, two of our models in particular are best suited for canning coffee.
Model 8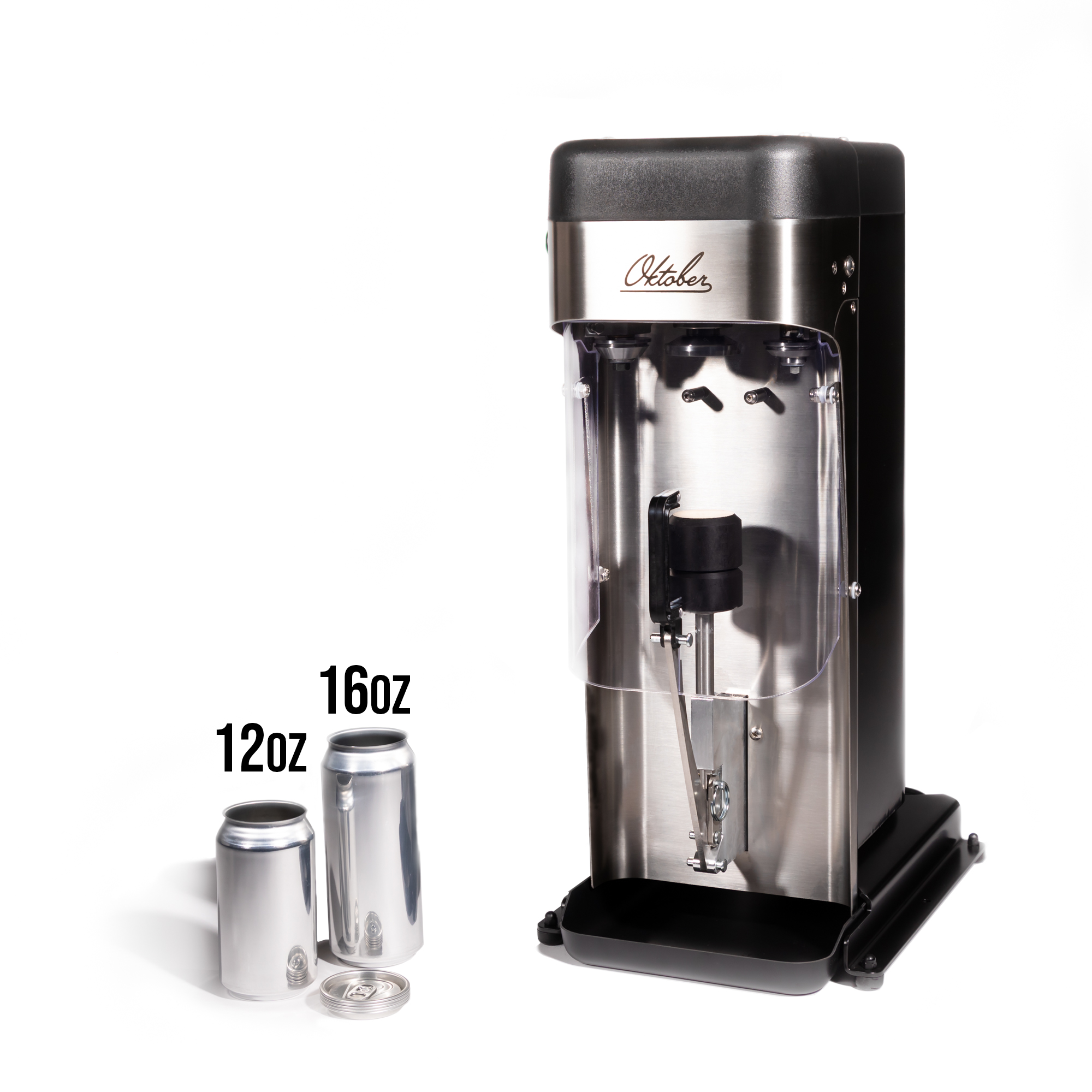 Our newest and most advanced model, the Oktober Model 8 Can Seamer is an unmatched coffee canning machine with automatic capabilities. With it, you or your employees can seal a single can of cold brew in roughly three seconds without involving any manual labor besides taking the sealed can off of the machine.
The Model 8 is available in six different variations, making it easier for your team to restock your supply of cold brew quickly through automation.
Model 7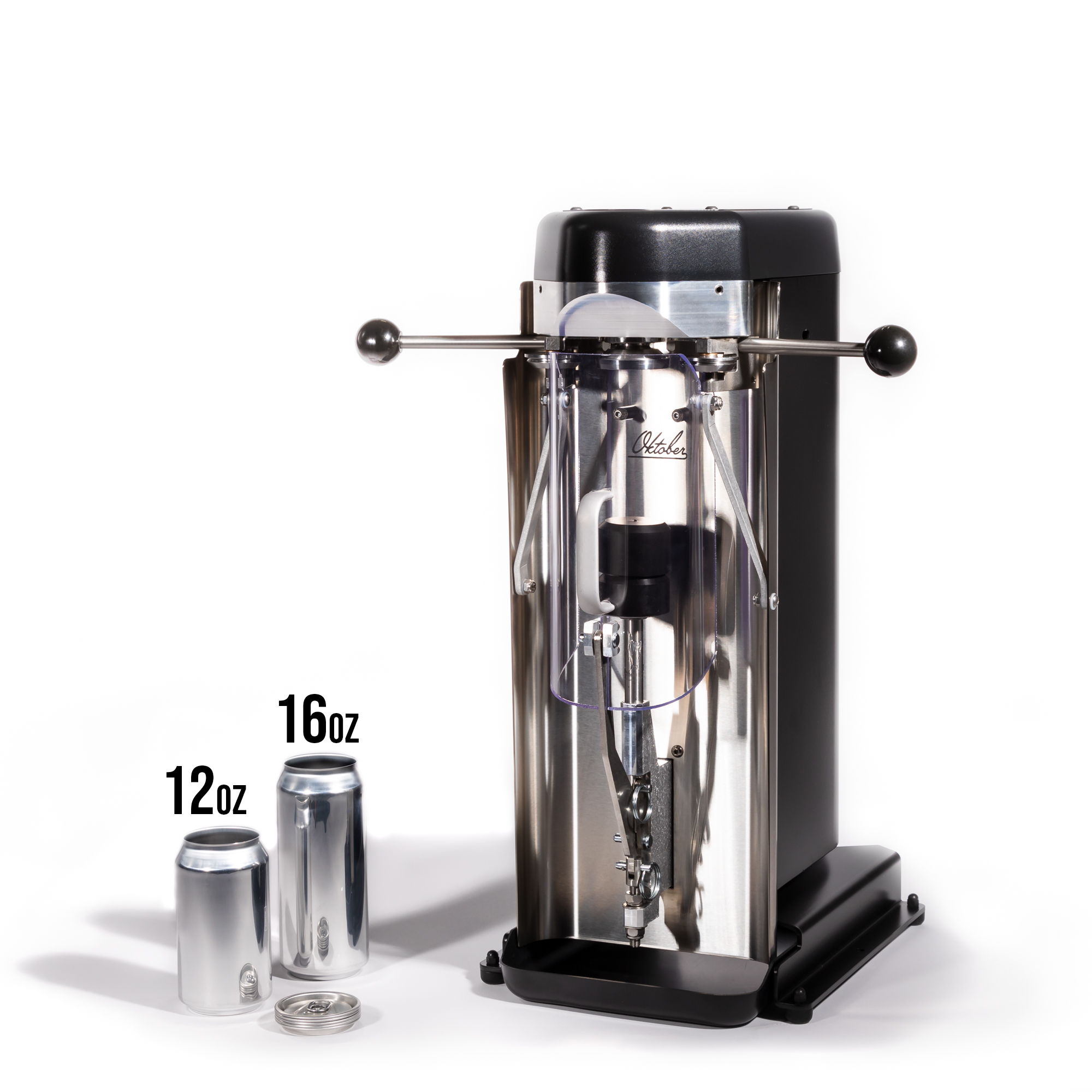 The semi-manual Oktober Model 7 Can Seamer is a compact but powerful way to offer cold brew to your customers. It takes up a small footprint on your counter space compared to some pieces of coffee-canning equipment, all while offering you the ability to provide canned to-go orders of cold brew fresh in front of your customer's eyes.
The Model 7 is available in nine variations to suit your sizing and width needs, whether you're offering slim cans of cold brew, or making the switch to selling your roasted coffee beans in cans instead of bags. 
Additional adapters are also available separately.
How to Can Cold-Brew Coffee
To can cold-brew coffee in your shop or roastery using one of our can seamers, there are just a few simple steps to follow:
1. Fill the Can with Cold Brew
The coffee canning process can take mere seconds once you have all of your cans completely filled. Have your canned coffee at the ready, with the can end in place on top of the can.
2. Place the Can into the Canning Machine
The filled can should rest snugly on top of your can seamer's base adapter. Lean the can up against the can guides to make sure the can end seals properly. Lastly, lift the splash guard into place.
3. Let the Can Seamer Work
Requirements for this step may vary slightly depending on which can seamer model you're using.
Model 7: Turn the machine on, rotate the right-side handle all the way inward until you hit the stop, then back it off. You'll need to repeat this motion for the left side as well.
Model 8: Press the green button near the top left side of the machine. Let the can seamer run the cycle on its own.
4. Remove the Sealed Can from the Seamer
Lower the splash guard now that the cycle is complete. Take your newly canned coffee out of the machine and move on to the next one.
For a single can, this entire process takes mere seconds. For a pack of 24, you can expect the entire batch to be done in a few minutes at most.
Order a Coffee Canning Machine from Oktober
Not only do we offer state-of-the-art coffee can seamers that can elevate your ability to provide cold brew to your patrons, but we also do it while offering top-quality customer service and machinery that's designed to last for years and keep up with your business.
To order your coffee canning machine, see our Model 7 and Model 8 product information for yourself and choose the machine that's right for you. Your business will be growing before you know it.